Our contractors are licensed, bonded, and insured to help you with all of your custom residential projects.
Our installation, replacement, and repair teams are trusted by the locals to bring the best decorative services in the area.
Our company has highly rated reviews for Winston Salem & nearby areas.
Our affordable contractors are top of the line, and offer professional protocols in the area.
Why You Should Hire A Professional Deck Builder in Winston Salem
Hiring a professional deck builder will not only save you time & money, but it will also ensure safety & superior designs. If you decide to hire an amateur deck builder there is a good chance they are not licensed, insured, or highly trained to ensure your project goes off without a hitch. Same issues arise when turning this into a DIY project. So many things can go wrong, and you are putting your safety in danger. Rely on Superior Outdoor Spaces to provide licensed & insured contractors, along with the best custom deck designs in Winston Salem & surrounding areas. First step is to provide you with an in-person design consultation & free estimate. This will allow you to make a confident decision when choosing our deck builders. We then create a custom design and installation protocol, so that you receive a headache free service.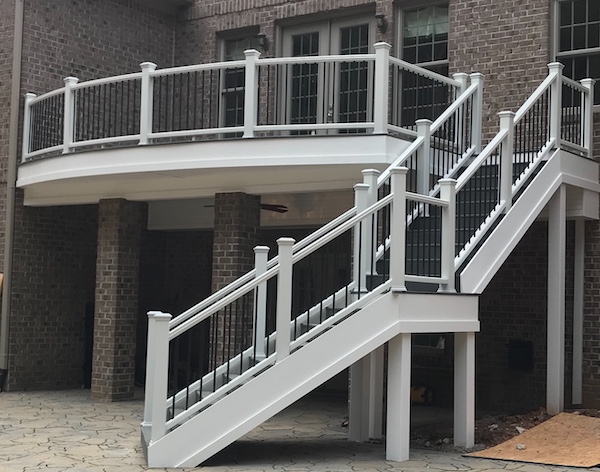 The #1 Deck Building Company Near Me
Do you find yourself searching "deck building company near me" over and over, and never feeling confident in a company? Well you've finally found the answer to your search! We provide residential properties with custom deck designs that transform their outdoor living spaces. Decks offer an advantage that other outdoor living spaces, such as patios and sunrooms, don't. That is, that they are able to be installed, no matter what the surface of your property may be. For example, say your back yard is a steep hill. You wouldn't be able to install a concrete patio because it would need a flat surface. Our custom deck designs allow us to fit a deck perfectly to whatever space you are working with. No more feeling like extra outdoor living space is impossible because of your space and landscape. Call our expert deck builders in Winston Salem to get started today.
Add Space with a Custom Deck Design
Are you tired of having friends over and feeling like you're crammed inside on a beautiful spring afternoon? Maybe you want the perfect space to relax and enjoy coffee on a cool crisp fall morning. No matter what the reason may be, add space to your home with our custom deck designs. Decks are the perfect space to relax in the morning and entertain in the evening. Depending on the size of deck you are looking for, you can make room for a dinning set, comfortable swing, and even a grill! Our custom porch service is the perfect complimentary accent to your deck. You can have a wraparound porch that allows your guests to go directly to your back deck without going through your home.
Our deck builders also provide you with space for children and pets to safely play outside without the worry of mud and grass stains. Your custom deck design can include the perfect railing, and a gate to ensure the safety of your children and pets. If you have any questions on how our deck builders can help you, don't hesitate to give us a call today! We look forward to helping you create the perfect custom deck design.