Double Hung & Sliding Replacement Windows Winston Salem NC
Our products incorporate fine details and high quality, even on the most basic models of windows. If you prefer a more traditional atmosphere in your home, double hung or sliding replacement windows are your best option. These types of window are typically flushed with the wall to provide a seamless look from the inside and outside of your home, and open by sliding side to side, or up and down. When it comes to cleaning and maintaining your windows, sliding & double hung provide easy access to the full surface of the glass. There are the options to opt in for the tilt-in or lift-out that allows you to easily reach the outside for cleaning. As the best window replacement company in the Triad area, all of our windows are made of top-notch materials, receive quality manufacturing processes, maximize your view, and are energy efficient.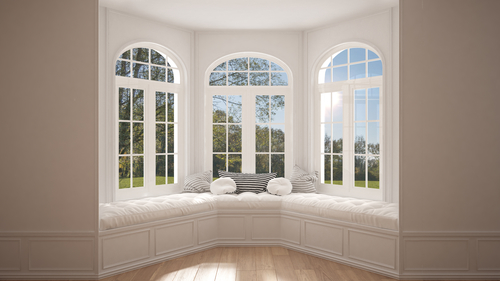 Custom Designed Replacement Windows Greensboro
For a more elaborate and custom designs replacement window in Greensboro & surrounding areas, casement or bay & bow windows are the best option. Bay and Bow windows extend out, usually creating a nook in your home that is perfect for a dining room, reading space, storage or sitting bench, or a perfect atmosphere for plants to grow. These replacement windows typically add more of a scenic view, and more natural light in your home. Casement replacement windows help maximize the ventilation in the room, and provide a larger unobstructed view of the surrounding scenery. When opening casement windows, instead of sliding up and down, or side to side, they open out. This allows for great ventilation, but keep in mind it takes away some space on the outside of your home. This only becomes an issue if there is a window in the way of a custom outdoor living space, or walkway. If you have any questions about types and designs of our windows, call our replacement windows Greensboro team today.
The #1 Window Replacement Company
Superior Outdoor Spaces offers a variety of custom and decorative window replacement options. Whether you are looking to replace a single window, or give your entire home a remodel, our replacement window Winston Salem NC team can help. If you are receiving replacement window services for a remodel, we strive to transform the look and feel of your home, and ensure that you are highly satisfied with the final project. All of our window replacement services are completed with the highest of quality windows that provide energy efficiency, durability, and an array of style options. We combine that with our expert customer service & superior craftsmanship, and that's how we've become the #1 window replacement company that services the Triad area. Since we are a full-service outdoor living space contractor, we can even provide these amazing services for all of your outdoor needs.