Benefits of Stamped Concrete Designs
Stamped concrete designs are a great way to add style & elegance to your space, and it's affordable! Stamped concrete involves pouring a concrete slab, and then pressing patterns and textures onto the concrete before it fully dries and cures. Afterwards, we ensure that the concrete is properly sealed, so that your custom stamped concrete design will last for years to come. This design & process will provide your space with many benefits, including:
Array of Options: Our stamped concrete designs provide you with an endless amount of color, texture, and pattern options. Whether you want an elegant look, or something more modern, our stamped concrete contractors can provide one of a kind designs for your space. Since Superior Outdoor Spaces is a full-service outdoor living company, we can also combine our stamped concrete designs with any of our other services for your one of a kind outdoor oasis.
Added Safety: When choosing to add texture into your stamped concrete design, you are essentially providing a non-slip feature for your concrete slab. This is a perfect idea for any area that is susceptible to moisture.
Affordable Designs: Our designs can replicate surfaces that would otherwise be very expensive to install. Patterns like natural stone and brick are some of our most common designs requests for stamped concrete in Greensboro NC & surrounding areas.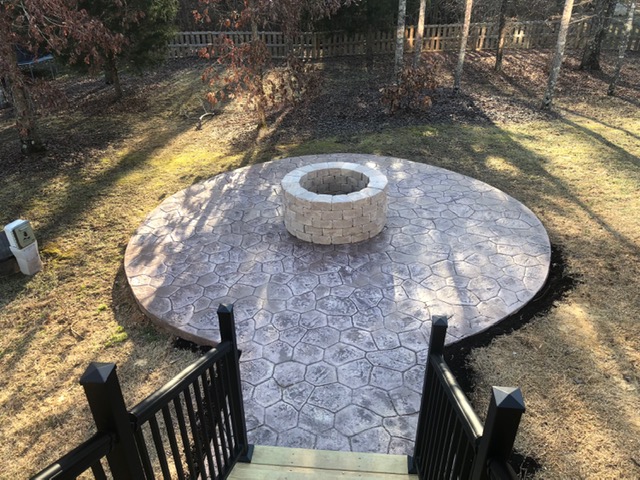 Best Places for Stamped Concrete Designs
Since our stamped concrete contractors provide an array of custom design options, you can utilize our services almost anywhere. Provide your backyard patio area with an elegant design that allows you to relax and enjoy your evenings with family, or create a textured design that ensures everyone is safe from slipping and falling during your next social event. Pool areas & outdoor kitchen spaces really benefit from our stamped concrete designs because of the added safety and durability. Since we are a full-service outdoor living design company, we can even complete the look with the perfect glass pool fencing system. No matter how elaborate, or how simple your design may be, count on our stamped concrete contractors to create the perfect outdoor oasis for your home.
The #1 Team for Stamped Concrete in Greensboro NC
Superior Outdoor Spaces provides exceptional outdoor living design services for Greensboro NC & the surrounding Triad area. One of the ways we are able to do this is by always providing licensed & insured stamped concrete contractors. We also ensure they are all highly trained & knowledgeable when it comes to our top-notch protocols. Affordable & efficient services is also how provide our clients with an exceptional experience. Stamped concrete designs provide your space with elegance that won't break the bank. We also ensure all protocols are completed quickly and at the highest of quality. We strive to make this process headache free for you. Call our stamped concrete contractor team today to schedule your consultation, and get started with a free quote!