We'll make your backyard superior with our custom backyard renovations.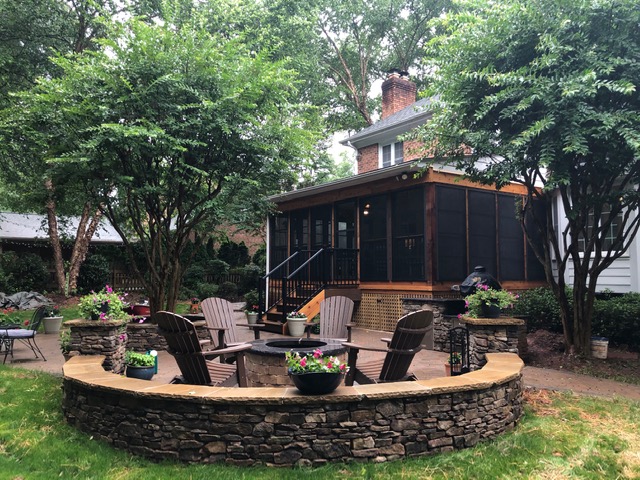 Your backyard can be more than something you see when you look out the window. It can be an amazing gathering space for family and friends. It can be a retreat on a beautiful day here in Winston-Salem, North Carolina and the Triad. It can be an oasis where you unwind and release stress after a hectic day or week at the office. At Superior Outdoor Spaces, we want to make your backyard superior. There are unlimited options for backyard renovations that can make your backyard your favorite place to be.
The first thing to do is consider what activities you would like to enjoy with your outdoor living space. For example, does the idea of a mesmerizing fire with warmth on a cool evening appeal to you? If so, consider outdoor fire pit construction to provide you with the custom fire pit you envision. You are not limited to the mass-produced versions when you turn your backyard renovations over to us. We'll create the style and size that fits your needs and visual preferences. If you want something more than a fire to cook over, consider that we have expertise as an outdoor kitchen builder with many custom outdoor kitchens under our belt. We can install anything from a small cooking and serving area to one even larger and more functional than your indoor kitchen.
Ambiance and style are also important with backyard renovations, so don't forget about features such as fireplaces, custom hardscapes, a covered patio, custom screened porches, gazebos, pergolas, and custom decks. If you can imagine it, we can bring it to life. Contact us today to get started with creating the retreat that you and your family deserve.
FAQs About Backyard Renovations
Naturally, most homeowners who are looking into backyard renovations are going to have questions about our services. Because many of our customers tend to ask similar questions, we have decided to provide the answers to some of them below. Here are some of our frequently asked questions about our backyard renovations:
How much will it cost to renovate my backyard?
We understand that most homeowners have a budget they need to stay within when it comes to backyard renovations. While we can't provide an exact number, since our work is customized to suit the needs of each customer, we can offer you an estimate once you go through a consultation with us.
What kinds of backyard renovations do you offer?
Our backyard renovations include a wide variety of customized products, including decks, gazebos, pergolas, porches, fire pits, fireplaces, hardscapes, outdoor kitchens, patios, and stamped concrete. Whichever renovations you choose, we have the necessary skills and tools to provide you with a functional and beautiful space you will love.
Can I see your past backyard renovation work?
We would love to show you the backyard renovations we have provided our customers in the past. You can visit the gallery on our website to see the results of our work. You can also find before-and-after shots that include the details of our renovations, such as brands and materials we used.
Why should I choose you for backyard renovations?
You won't find better results, customer service, or customized designs anywhere else. We'll ensure that your backyard renovations are durable, beautiful, and unique to your home and tastes.
---
At Superior Outdoor Spaces, we offer backyard renovations for properties in Winston-Salem, High Point, Greensboro, Asheboro, Archdale, Burlington, Clemmons, Elkin, Elon, Gibsonville, Graham, Jamestown, Kernersville, King, Lewisville, Lexington, Mebane, Midway, Mount Airy, Mocksville, Oak Ridge, Pleasant Garden, Randleman, Reidsville, Stokesdale, Summerfield, Trinity, Thomasville, Walkertown, Wallburg, and Welcome, North Carolina.
Similar Services We Offer: