Variety is one of the biggest benefits of stamped concrete.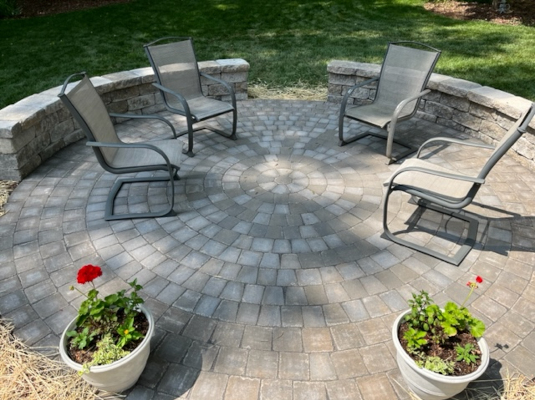 It is always nice to have hardscape options that provide both functional and aesthetic benefits. That is definitely the case with stamped concrete. Your patio, walkways, fire pit area, pool deck, and gazebo floors can all benefit from the durability of a concrete surface with the added beauty and advantages that custom stamped concrete has to offer. At Superior Outdoor Spaces, we help our customers in the Winston-Salem, North Carolina area enjoy the elegance of stamped concrete.
There are many benefits involved with stamped concrete, including creating more slip resistance than a flat concrete surface provides. This makes it ideal for open patios, walkways, outdoor kitchens, and pool decks. Another benefit is that you can get a design that has the appearance of a costlier material, leaving you room in your budget for other outdoor living space features. We can make your stamped concrete look like brick or natural stone, for example.
Variety is one of the biggest benefits of stamped concrete as we offer an endless amount of pattern, texture, and color options. We can create anything from a rustic natural appearance to something elegant based on your style preferences.
The way stamped concrete works is that the concrete slab is poured out for your patio, walkway, or other outdoor space, and then we press the textures, colors, and patterns into it before it dries and cures. Later, we follow up with sealing the concrete, so it stays in top condition for years to come. If you have anything from a simple design to something elaborate in mind, reach out to us today to discuss your stamped concrete project and any other outdoor living space improvements you would like to make.
FAQs About Stamped Concrete
Our team at Superior Outdoor Spaces offers stamped concrete to help you make your pathway, patio, or other outdoor structure the best it can be. Below, we'll go over the answers to a few of our most frequently asked questions on the subject to help you decide if stamped concrete is right for you.
How long does stamped concrete last?
Just as with regular concrete, the quality and durability of stamped concrete are greatly affected by the preparation and concrete mix used. Our team uses only the best materials in our concrete mix, and we know how to prepare the site in order to achieve excellent results. With proper care and maintenance, your stamped concrete can last over twenty years.
What do I need to do to maintain my stamped concrete?
To keep your stamped concrete in great condition, you should get it resealed every one to two years. This will prevent water from eroding the surface. In addition, make sure to get your concrete cleaned regularly. Finally, if it snows, avoid using sand or salt on your stamped concrete, as they can abrade the surface.
What designs can I create with stamped concrete?
You can create just about any look you can imaging with our stamped concrete. We offer a variety of stamping patterns to create a wide range of textures, including styles that will make your concrete look like bricks, cobblestones, and more. On top of that, we can add pigment to your concrete to further enhance its appearance.
---
At Superior Outdoor Spaces, we offer stamped concrete services for properties in Winston-Salem, High Point, Greensboro, Asheboro, Archdale, Burlington, Clemmons, Elkin, Elon, Gibsonville, Graham, Jamestown, Kernersville, King, Lewisville, Lexington, Mebane, Midway, Mount Airy, Mocksville, Oak Ridge, Pleasant Garden, Randleman, Reidsville, Stokesdale, Summerfield, Trinity, Thomasville, Walkertown, Wallburg, and Welcome, North Carolina.
Similar Services We Offer: