Creating Your Custom Outdoor Living Space
The perfect outdoor living space is more than just a beautiful lawn and a place to sit. No one wants to have to run in for food, or go inside because it started to rain while having a cookout. Our outdoor kitchen builders help create a great atmosphere for gatherings, while providing all of the function that you need to be able to fully enjoy the outdoors. We can even design a space with a custom gazebo that will allow you to enjoy your custom outdoor living space even while it's raining. During the designing process, our outdoor kitchen builders will help you determine the best place for your new project. Depending on where you place your kitchen has a large factor in pricing, along with what material you choose for countertops. Another large factor when designing your space is the type of grill you want to install. You don't want to have buyer's remorse because you bought a grill that is just a little bit too small, and there isn't room to upgrade it.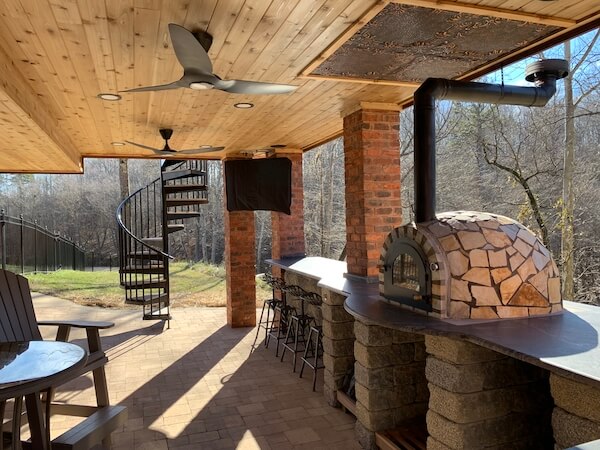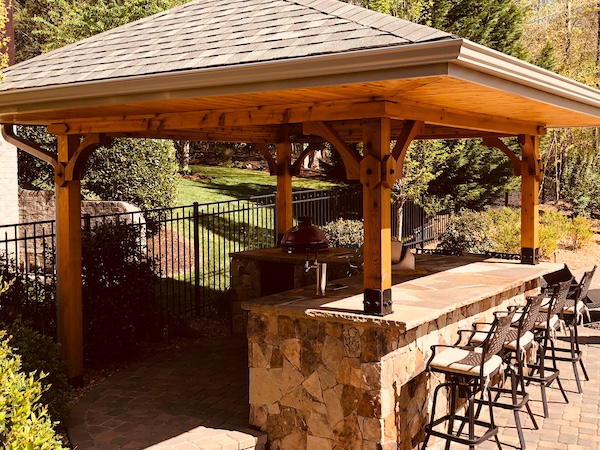 Benefits of An Outdoor Kitchen in Winston Salem
Expand Your Living Space: Without an outdoor kitchen area, you are stuck in one of the two scenarios: Someone stays instead cooking while everyone gathers outside, or someone is stuff cooking at the grill while everyone enjoys their time inside. Provide an extra space that allows everyone to spend time together with our expert outdoor kitchens Winston Salem team.
Enjoy the outdoors: When choosing to add an outdoor kitchen in Winston Salem NC, you are choosing to spend a little more time taking in the beautiful scenery & weather. After being inside working most of the day, enjoy a breath of fresh air while you prepare dinner for the family. The best part, sit back and relax outside while enjoying the dinner you just finished preparing.
Increase Home Value: Because of their popularity & added benefits, outdoor kitchens in Winston Salem increase the value of your home when installed by professional outdoor kitchen builders.
Create the Ultimate Outdoor Oasis: An outdoor kitchen is great by itself, but it can also be paired with our other outdoor living space services. Make your space cozy with a fire pit, protect yourself from the weather with a custom gazebo, or choose from an array of other services we offer.
Why Choose Our Outdoor Kitchen Builders?
When you decide to install an outdoor kitchen in Winston Salem, keep in mind it is not meant to be a DIY project. It is very intricate, and can include anything from gas lines to electrical wiring. If not installed correctly, weather and other unavoidable things can cause a huge mess or disaster. With years of experience, and updated equipment, our outdoor kitchen builders provide you with exceptional craftsmanship, quick turnaround times, and great customer service. There's no need to worry and have a custom outdoor living space project become a huge headache. Call our outdoor kitchen builders today to have professional, worry free installation service.