Our outdoor kitchens are designed to be appealing and functional.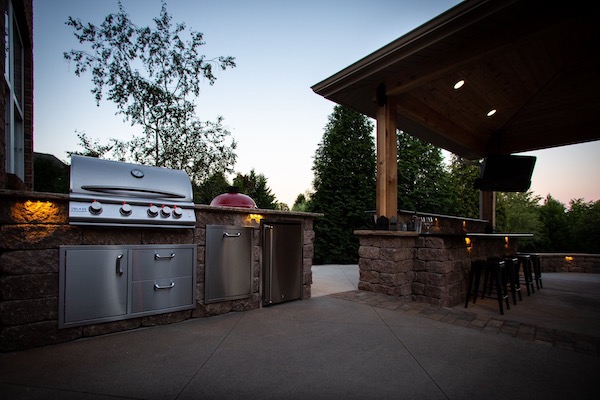 What are you to do when its too hot to cook indoors or you have too many guests coming over to crowd into your kitchen? Simple– take the meal and party outdoors to the functional and beautiful outdoor kitchen that we can install at your Winston-Salem, North Carolina home. At Superior Outdoor Spaces, we have the expertise to design and install outdoor kitchens that will add value and enjoyment to your home. We'll take the time to learn what your objectives are so we can make appropriate recommendations about layout and design, as well as features.
We understand that setting the right atmosphere is as important as the functionality, so we'll address aesthetics right along with the purposeful elements. You'll have all the answers you need for selecting the right materials and appliances. We have no limitations when it comes to outdoor kitchens, so feel free to go as simple or as complex as your needs dictate. We can even upgrade a current outdoor space to give you the added flexibility of cooking meals outdoors. If you are looking for a space you can use even when it rains, ask us about a custom roof or pavilion with a custom kitchen included.

If you have questions about outdoor kitchens or any of the other features we can incorporate into backyard renovations, don't hesitate to reach out to us. We look forward to transforming your backyard into an oasis that is perfect for entertaining and spending time outdoors with your family.
FAQs About Outdoor Kitchens
One of the many projects we at Superior Outdoor Spaces can help you with is outdoor kitchen design and installation. If you are interested in adding an outdoor kitchen to your property, we encourage you to read through our frequently asked questions below to get more information.
What is the point of an outdoor kitchen?
In many ways, an outdoor kitchen serves the same purpose as a grill—namely, it gives you a way to keep all the heat outside, preventing it from heating up the interior of your home on a hot summer day or evening. On top of that, outdoor kitchens serve as great entertainment areas, as everyone can gather around to enjoy meals together in the fresh air.
What should I include in my outdoor kitchen?
Part of the beauty of outdoor kitchens is that they are highly customizable. Our experts can help you create the perfect setup for your outdoor kitchen, getting the layout, appliance choice, and aesthetic details just right. Whether you want to keep things simple and just add on to your grill or you want to create an elaborate setup complete with things like wine coolers and wood-fired ovens, we've got you covered.
Can I build my own outdoor kitchen?
For simple outdoor kitchens, it is technically possible to do the work yourself. However, for more elaborate kitchen designs, you will almost certainly need help to bring your vision to life, and our team is here to provide that assistance. We have extensive experience in the industry, and you can count on us to deliver the outstanding results you deserve. In addition, our team will do all the work for you so you can enjoy spending time on other activities, and we'll get the job done faster than you could on your own.
---
At Superior Outdoor Spaces, we design and build outdoor kitchens for properties in Winston-Salem, High Point, Greensboro, Asheboro, Archdale, Burlington, Clemmons, Elkin, Elon, Gibsonville, Graham, Jamestown, Kernersville, King, Lewisville, Lexington, Mebane, Midway, Mount Airy, Mocksville, Oak Ridge, Pleasant Garden, Randleman, Reidsville, Stokesdale, Summerfield, Trinity, Thomasville, Walkertown, Wallburg, and Welcome, North Carolina.
Similar Services We Offer: