Our outdoor kitchens are designed to be appealing and functional.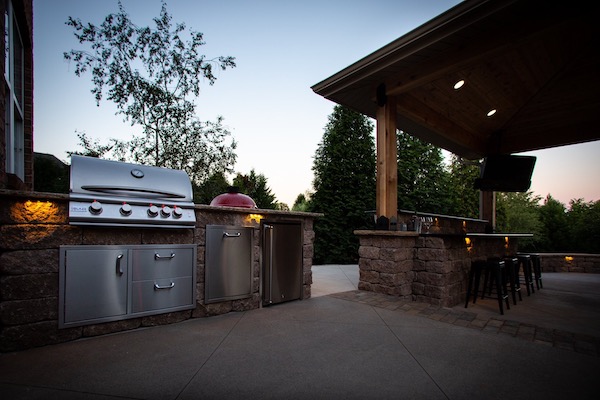 What are you to do when its too hot to cook indoors or you have too many guests coming over to crowd into your kitchen? Simple– take the meal and party outdoors to the functional and beautiful outdoor kitchen that we can install at your Winston-Salem, North Carolina home. At Superior Outdoor Spaces, we have the expertise to design and install outdoor kitchens that will add value and enjoyment to your home. We'll take the time to learn what your objectives are so we can make appropriate recommendations about layout and design, as well as features.
We understand that setting the right atmosphere is as important as the functionality, so we'll address aesthetics right along with the purposeful elements. You'll have all the answers you need for selecting the right materials and appliances. We have no limitations when it comes to outdoor kitchens, so feel free to go as simple or as complex as your needs dictate. We can even upgrade a current outdoor space to give you the added flexibility of cooking meals outdoors. If you are looking for a space you can use even when it rains, ask us about a custom roof or pavilion with a custom kitchen included.

If you have questions about outdoor kitchens or any of the other features we can incorporate into backyard renovations, don't hesitate to reach out to us. We look forward to transforming your backyard into an oasis that is perfect for entertaining and spending time outdoors with your family.
FAQs About Outdoor Kitchens
Our team at Superior Outdoor Spaces offers stamped concrete to help you make your pathway, patio, or other outdoor structure the best it can be. Below, we'll go over the answers to a few of our most frequently asked questions on the subject to help you decide if stamped concrete is right for you.
How long does stamped concrete last?
Just as with regular concrete, the quality and durability of stamped concrete are greatly affected by the preparation and concrete mix used. Our team uses only the best materials in our concrete mix, and we know how to prepare the site in order to achieve excellent results. With proper care and maintenance, your stamped concrete can last over twenty years.
What do I need to do to maintain my stamped concrete?
To keep your stamped concrete in great condition, you should get it resealed every one to two years. This will prevent water from eroding the surface. In addition, make sure to get your concrete cleaned regularly. Finally, if it snows, avoid using sand or salt on your stamped concrete, as they can abrade the surface.
What designs can I create with stamped concrete?
You can create just about any look you can imaging with our stamped concrete. We offer a variety of stamping patterns to create a wide range of textures, including styles that will make your concrete look like bricks, cobblestones, and more. On top of that, we can add pigment to your concrete to further enhance its appearance.
---
At Superior Outdoor Spaces, we design and build outdoor kitchens for properties in Winston-Salem, High Point, Greensboro, Asheboro, Archdale, Burlington, Clemmons, Elkin, Elon, Gibsonville, Graham, Jamestown, Kernersville, King, Lewisville, Lexington, Mebane, Midway, Mount Airy, Mocksville, Oak Ridge, Pleasant Garden, Randleman, Reidsville, Stokesdale, Summerfield, Trinity, Thomasville, Walkertown, Wallburg, and Welcome, North Carolina.
Similar Services We Offer: