Searching Online for Fire Pits Near Me?
Turn your backyard into the perfect outdoor living space with our custom outdoor fire pit installation service. You will be able to enjoy time with friends and family on a cool evening underneath the stars, all while staying cozy by the fire. Create the ultimate backyard by also choosing our outdoor kitchen builders to provide a luxury outdoor living design for you home. Whether you have an existing patio, or you need one installed, we can provide the perfect custom outdoor fireplace design for your space. A custom outdoor fire pit has multiple benefits other than just keeping you warm and cozy. It's the perfect place to let the kids roast marshmallows, bring back some of your favorite campfire meals, & they will even help increase your home's value.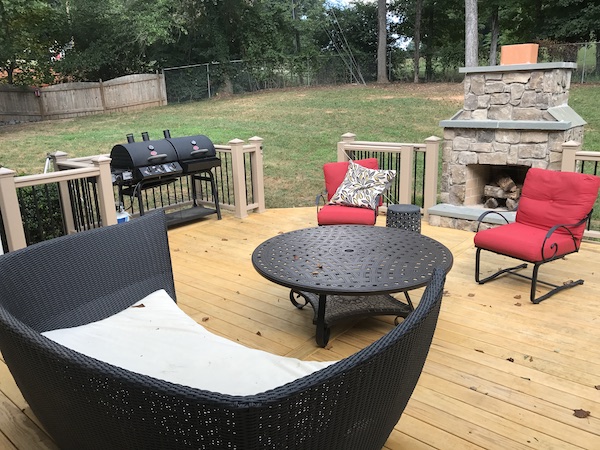 Outdoor Fireplace Designs vs Custom Outdoor Fire Pits
No matter what you pick, you can't go wrong with a custom outdoor fire pit or fireplace. They both add appeal and warmth to your outdoor living space, but provide two different experiences. If you have any questions as to which option is best for you, contact our fireplace construction team today!
Outdoor Fireplace Designs: A fireplace consist of a pit for the fire with an attached chimney. This allows you to only sit in front of it, opposed to around it like you would a fire pit. An outdoor fireplace design is a bit more elegant than that of a pit, and takes up less space since it can be placed to the edge of your patio during the fireplace construction. This is a great option if your patio is covered by a gazebo or pergola since the chimney directs the smoke up and out, and it allows you to enjoy a fire on a rainy day.
Custom Outdoor Fire Pits: compared to our outdoor fireplace designs, a fire pit is more of a centralized space to gather around. This allows guests to be more interactive with one another and allows for more gathering space. A fire pit does take up a little bit more of your patio space since it's usually placed in the middle, but it has plenty of room to move around it. You also have to have a more open area for a custom outdoor fire pit since there's not a chimney to direct the smoke.
Outdoor Fire Pit Construction Process
Our fireplace construction team his highly trained and knowledgeable on all the ins and outs of our design & installation protocols. When designing your custom outdoor fire pit, we offer an array of different materials and colors so you can create a beautiful masterpiece. As a full-service outdoor living design team, we have access to natural stone, decorative concrete, brick, and so much more! Not only can you rely on us for exceptional outdoor fireplace designs, but our fireplace construction team is quick, efficient, and leaves your space in pristine condition. Every property is different, and has different obstructions in the yard. Which is why our fireplace construction team customizes every installation protocol per property. When creating an installation protocol, we take into consideration what is lurking above, what vegetation is surrounding the area, and the location of your custom outdoor fire pit in comparison to your house. Call today to create your perfect outdoor living space that is made for relaxation and entertainment.